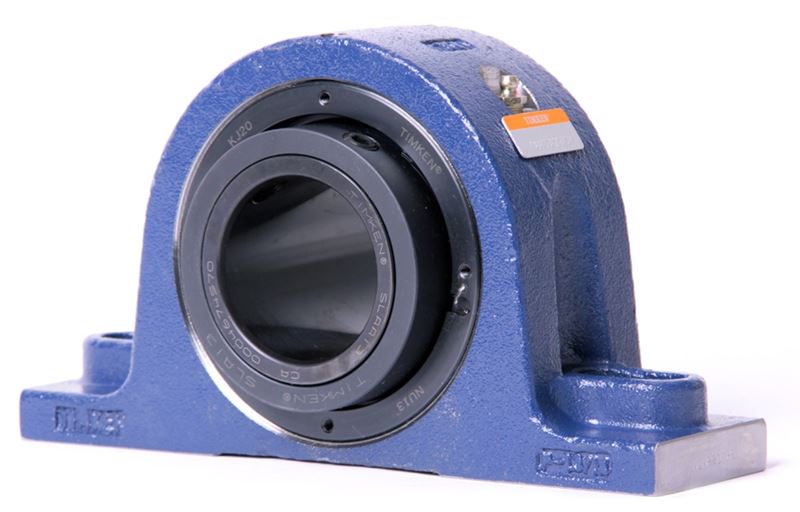 Timken's steel housed bearings can take on the toughest applications.
Your operations can be tough, and that leads to misalignment and damage from falling debris. Ordinary bearings would fail in those conditions, but Timken's Solid Block Steel Housed Bearings are built just for those circumstances.
Timken's Solid Block is the only spherical roller bearing housed unit to offer cast-steel as standard.
It can handle shaft misalignment of up to +/- 1.5 degrees
Some configurations offer the Pressure Relief Valve that prevents over-lubrication
Customizable design features allow you to choose the right configuration for your exact needs.
Design Features
Below is a full listing of the various features of the steel housed bearings that you can choose in order to best meet your needs. Based on the amount of space you have, the type of contaminants that are present, and the speed of your application, you may need very different configurations. A solutions specialist will help you!
Housing Styles

Two-bolt pillow blocks
Four-bolt pillow blocks
Flange blocks
Piloted Flanges
Cartridges
Take-up blocks
Cartridge units
Locking Styles
Eccentric Lock
Concentric lock (set screw) – single or double collar
Tapered adapter lock
V-lock double tapered lock – single or double nut
Seals
Labyrinth seals – DuPont Teflon
Triple-lip seals – nitrile
Triple-lip seals – urethane
Closed-end covers
Open end covers with triple lip, DuPont Teflon, or V-ring seal
Piloted flange cartridge backing plates with triple-lip seal
Flange block backing plates with V-ring seal
With all of these customizable features, you're sure to find the right combination for your tough applications. Further details about the solid block steel housed units are available at Timken's website.
Success Story
Problem
A customer of ours was having trouble with bearings on their locomotive exhaust fan for their paint booth. It was a tough application, requiring a bearing that could withstand a lot, but it was also an application that they were having trouble keeping properly greased. The bearings would fail when they were over- or under-greased.

Solution
ErieTec suggested the Solid Block Steel Housed Bearings with the special Teflon seals and a pressure relief valve to prevent over-lubrication. The V-lock locking mechanism was chosen in order to provide superior holding power while also eliminating over-tightening.

Cost Savings
By choosing the Solid Block bearings, the customer saved at least $3,000 in downtime avoidance and in maintenance costs.
Ready to get a success story of your own? Contact us today!