Motor Control (1100 × 450 px) (1920 × 600 px)
Circuit Breakers
Eaton's low and medium-voltage circuit breakers provide premium protection for overheating wires, overloads and short circuits in residential, commercial, industrial and hazardous area applications.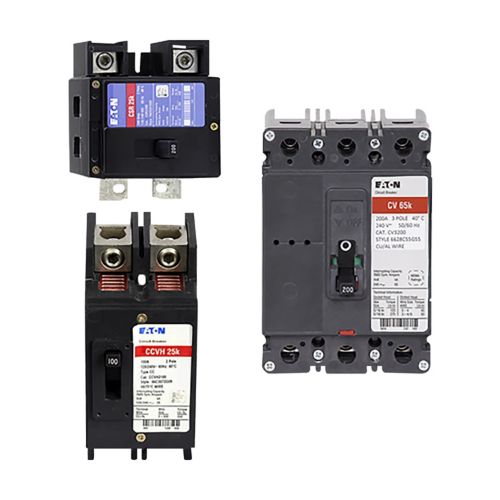 BR CIRCUIT BREAKERS
Eaton's BR circuit breakers are used in indoor and outdoor BR loadcenters, spa panels, meter breakers and sub panels. They are designed for a wide range of applications such as high short-circuit interrupt, series rating combinations with upstream main breakers, thermal magnetic, AFCI, GFCI, equipment protection and dual function AF/GF.
The BR Circuit Breaker is available in 1″ thermal magnetic, AFCI, GFCI and AF/GF designs, has a short-body design maximizes your space inside the load center, creating additional wire-way and gutter space for ease of installation, and is easy to read trip codes through improved LEDs and a clear test button increases your troubleshooting efficiency.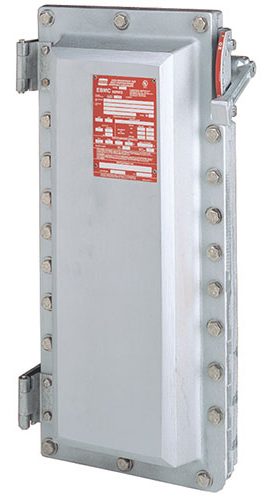 EBMB Explosionproof Circuit Breakers
Crouse-Hinds series EBMB explosionproof circuit breakers provide general control and circuit protection for lighting, heating, appliance and motor circuits in hazardous areas. They are designed to perform safely and reliably in damp, wet, dirty and dusty locations without the need for a protective shelter.
The EBMBs clamshell design with a side operated handle allows for reduced footprint and simple confirmation of the internal assembly.
The stainless-steel springs of the EBMB Explosionproof Circuit Breakers provide clear indication cover bolts are fully retracted from body. The versatile, internal operating mechanisms allow for field adjustment to accommodate popular manufacturers' breakers. And they have a semi-clamshell enclosure design, with an external flanged ground joint between body and cover, makes interior components more accessible.
Certifications and Compliances
NEC and CEC
Class I, Divisions 1 & 2, Groups B, C, D
Class II, Division 1, Groups E, F, G
Class II, Division 2, Groups F, G
Class III
UL standards
UL1203 – Hazardous (Classified) Locations
UL2062 – High AIC Rating (Interrupting Capacity) for Groups C, D

240V 65,000 RMS Symm. Amperes
480V 50,000 RMS Symm. Amperes
600V 25,000 RMS Symm. Amperes