In order to solve our customers' problems completely and efficiently, we follow a consistent process. With over 60 years of experience and expertise across industries, we identified these steps as the best way to consistently meet and exceed your expectations in providing products and services that solve your problems.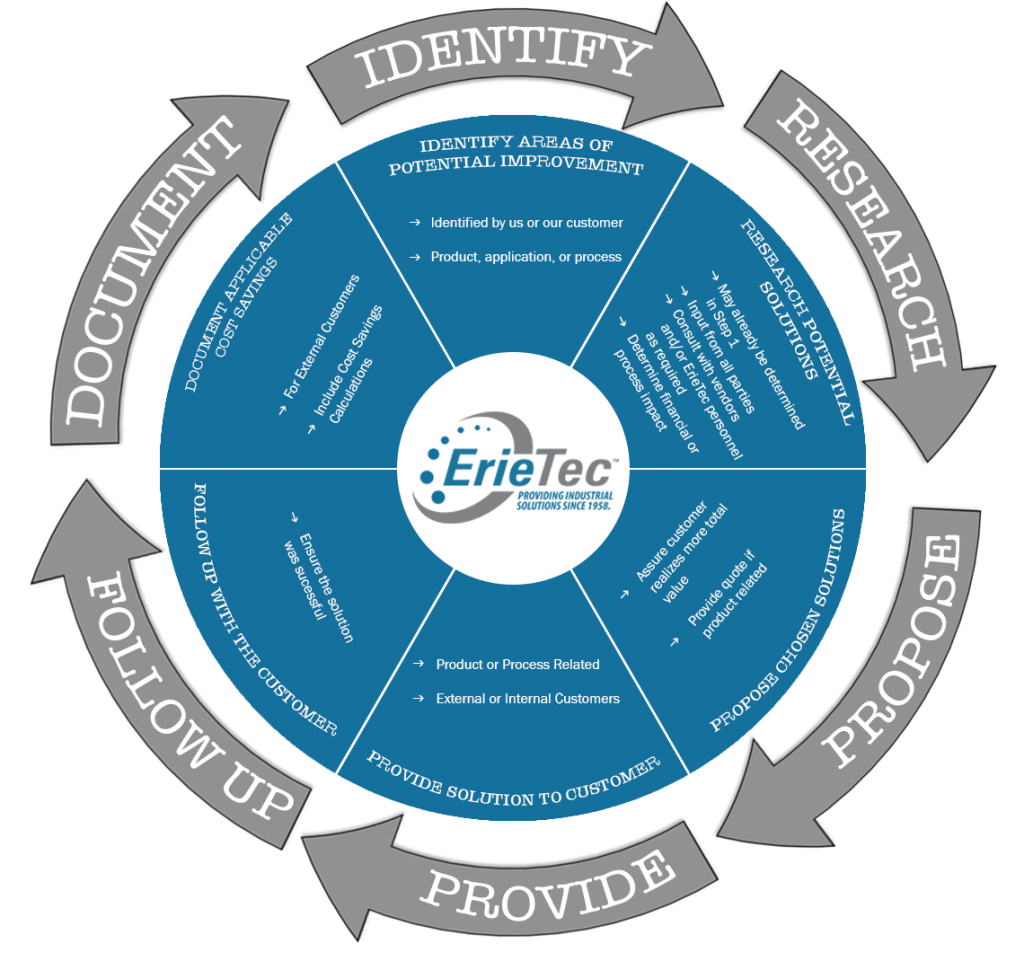 Step 1: Identify Areas of Potential Improvement
Identified by us or the customer
Product, Application, or Process
This first step is perhaps the most important in our proven process to providing solutions for our customers: learning where we can help. Sometimes this is something obvious. If a component in your operations has broken, it's clear that we can help you fix it. But other times, your operations seem to be working just fine – when in reality, we are able to offer you options that are more efficient, more affordable, or offer you other benefits like reduced downtime or longer component life. You can call us with a concern or you can simply chat with us about your operations. From that conversation and through questions we ask, we'll be able to provide you with suggestions of areas we think we can help you improve.
Step 2: Research Potential Solutions
May already be determined in step 1
Input from all impacted parties
Consult with vendors and/or ErieTec personnel as required
Determine financial or process impact
We don't go into any situation with an already-determined solution. Even when our experience and expertise immediately bring a certain possibility to mind, we don't jump into it without properly researching other options. This research can include talking with our ErieTec colleagues to see if they've dealt with a similar situation before. It could also include chatting with a variety of our valued manufacturers to see what they offer – especially because the market is always changing. We'll look at what is most cost effective for you, what might increase component life by the most, how long the lead times of the proposed solutions may be, and so many other factors before we decide what we want to present to you.
We will assess all options before we provide our professional recommendation.
Step 3: Propose Solutions
Assure customer realizes more value
Provide Quote if product related
As it is your operations, we would never assume that our recommendation will be your choice. We will provide you options and explain our reasoning for them, with an emphasis on how you will realize more value. At this point, we will provide you a quote with other information like how long you could expect it to take so that you can make your final decision as the customer.
Step 4: Provide Solution to Customer
Product or Process Related
Internal or External Customers
Whatever you have decided, we will get it done. Working with any manufacturers or other partners, we will ship the products, provide the services, and assist with any facet of completing the full solution to the identified area of improvement.
Step 5: Follow-Up with the Customer
Ensure the solution was successful
When you've implemented the solution, we'll check back in with you to make sure it's successful. If it's not, we will go to work to identify why you haven't fully realized the benefits. In addition, we'll continue to provide anything else needed related to that project – and any others you may have.
Step 6: Document Applicable Cost Savings
For external customers
Provide cost savings calculations
At ErieTec, we pride ourselves in the value that we add to your operations, the products we provide, and the services that we offer. In order to ensure we're meeting that goal, we document all cost savings that we provide. It helps us to remain on top of our game, but it also helps you to see what value there is in investing in the products and services that ensure your productivity, reduce your downtime, assist in your safety, and increase your profit.