Material Handling (1100 × 450 px) (1920 × 600 px) (1)
Idlers for Conveyor Belts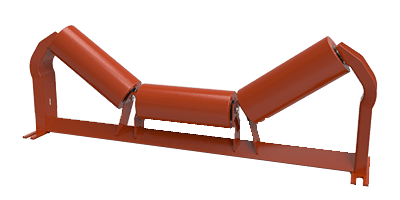 Steel Idler Rolls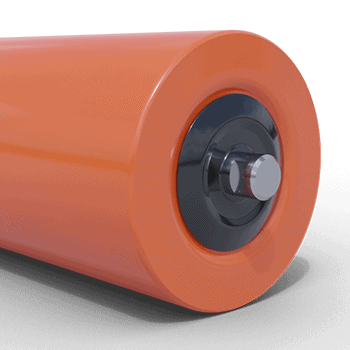 A full offering of CEMA rated rolls and frames, plus other unique models for the most complete idler offering of any manufacturer in the world.
Rubber Rolls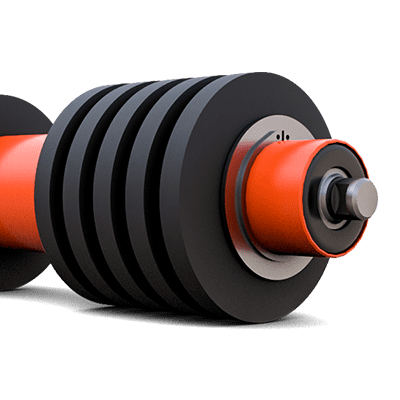 In a troughing position, rubber idlers are typically utilized at the tail end of the conveyor, because they can absorb any shock caused by falling material. Without rubber-coated rolls in these transition zones, belting will prematurely wear.
In a conveyor belt's return position, rubber rolls shed sticky material to help prevent belt tracking issues. Secondly, rubber also generates more friction between the roll and the belt to grip the belt more effectively for better belt tracking. Lastly, rubber will not break down as quickly as steel in corrosive environments
Moxie® Rolls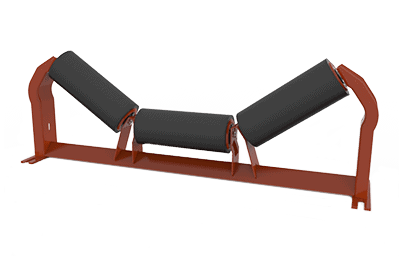 Moxie Rolls are manufactured using a specially formulated high-density polyethylene (HDPE). Conveyor owners and operators see a number of benefits.

First, when sticky material clings to steel rolls the size of the rolls increase and belt tracking issues usually follow. The lubricity of these plastic rolls sheds material.

Second, each Moxie Roll is up to 50% lighter than steel, which means a lighter load for your maintenance crew and — sometimes — a reduction in horsepower requirements.

Lastly, HDPE generates 3X less noise than steel. If you have nightmares about that familiar clanking sound caused by mechanical clips, exchange steel for Moxie Rolls for peace and quiet.
Belt widths 24" – 72" (609mm – 1,828mm)
Roll diameters 5" and 6" (127mm and 152mm)
CEMA classes C and D
Urathon® Rolls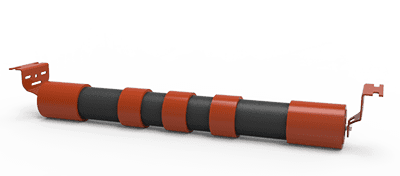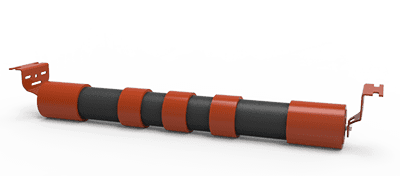 The modern properties of polyurethane always outlast and outperform old-fashioned elements like steel or rubber.
In comparable material handling applications, urethane lasts at least 3X longer than rubber and infinitely exceeds the performance of steel.
Superior's polyurethane is homemade, which allows shorter lead times, better quality control and an understanding of chemistry you don't get when you outsource production.
Belt widths 18" – 96" (457mm – 2,438mm)
Roll diameters 5" – 7" roll diameters (127mm – 177mm)
CEMA Classes B, C, D, and E
40 Series Idlers

40 Series Idlers are a domestic source for idler configurations common to European-designed track mounted crushers and other small processing equipment. Made out of 11 gauge steel, the 40 Series Idler center stands support multiple troughing angles.

Superior is one of just a few manufacturers who build these parts in the United States, making it easier to access the offshore idlers in North and South America. The rollers and center stands can be replaced separately.
Diameter 4" (101mm)
Belt widths 24" – 54" (609mm – 1,371mm)
Beater Bars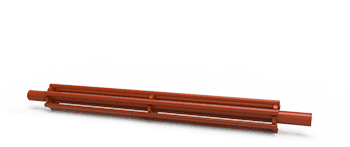 Sometimes referred to as squirrel cage return rolls, the rods create a beating motion, which releases sticky carryback material from belts.

Beater Bar Return Rolls are effective in cleated conveyor belt applications where traditional cleaners or scrapers are not effective. Gaps between the bars allow for material to escape, eliminating buildup on the roll to prevent belt mistracking.

When installed near the head pulley of your conveyor, dislodged material will fall to the stockpile. A life shaft is fixed to the roll and rotates with the idler, so larger bearings with higher load ratings can be used.
Diameters 5" or 6" (127mm – 152mm)
Belt widths 18" – 72" (457mm – 1,828mm)
Shaft size 1-7/16″ or 1-15/16″ (36mm – 49mm)
---
Additional Resources
For more information on these idlers and more, click here.