Motor Control (1100 × 450 px) (1920 × 600 px)
Enclosed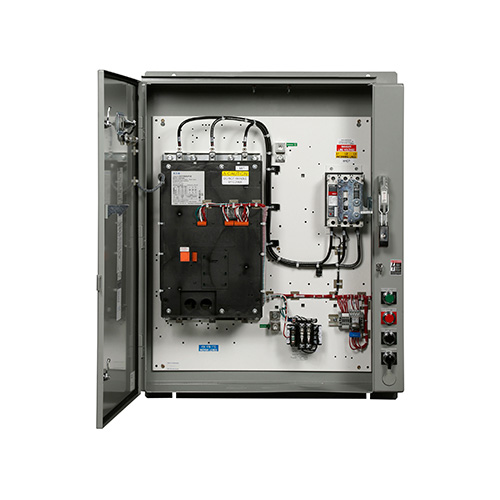 Enclosed Soft Starter:
These enclosed reduced voltage soft starters (ECS) are compact, multi-functional, easy to install, and easy to program.
They are designed to control acceleration and deceleration of three-phase motors, with options available for current ranges through 1000 A.
The product offering includes S611, S801+ and S811+ soft starters and are available as non-combination or combination.
Enclosed Soft Starters Core Features:
S611+ up to 450HP (414A) and comes standard with pump control and a door mounted keypad and
S801+ and S811+ up to 800HP (1000A) with optional pump control and door mounted keypad
Combination offering includes fusible, non-fusible or circuit breaker with a flange style disconnect
NEMA Type 1, 3R, 4, 4X, 4X non-metallic, 7/9 and 12 enclosures
Standard and customizable cover control and modification options
Open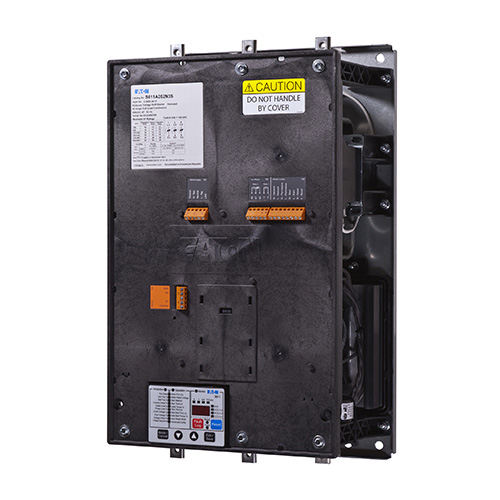 S611 Soft Starter:
The S611 soft starter is an innovative, economical device that combines advanced functionality unsurpassed configuration flexibility, and an extremely comprehensive user interface.
It is available in both open and enclosed control configurations to meet the needs of the commercial construction and OEM segment.
Core Features of the S611 Soft Starter:
The user interface module (UI) provides an intuitive, easy-to-use human interface with powerful configuration capabilities to maximize system performance
Door or device mounted UI enables users to safely configure, commission, monitor and troubleshoot the system at the electrical panel without opening the enclosure door, eliminating the possibility of an arc flash incident.
System operating parameters can be monitored enterprise-wide through a communications network. Increases uptime by providing data for process management and preventive diagnostics
Run bypass mode greatly reduces internal heating created by the greater power dissipation in the SCRs. Bypass contactors directly connect the motor to the line and improve system efficiency by reducing internal power losses.
Internal solid-state overload protection provides accurate current measurement and trip settings. Sophisticated algorithms solve a series of differential equations that model true motor heating and cooling, resulting in superior motor overload protection while minimizing nuisance trips. Advanced selectable protective features safeguard the motor and system against a variety of system faults
Internal run bypass contactors and overload protection eliminate the need for additional devices, reducing enclosure sizes, minimizing installation and wiring time and reducing overall assembly size and cost
Wide range of overload FLA settings (50–100% of rated frame current) and a selectable trip class (5–30) offers users the flexibility to fine-tune the starter to match specific application requirements
Variable ramp times and torque control settings provide unlimited starting configurations, allowing for maximum application flexibility
Pump control option with sophisticated pump algorithms on both starting and stopping that minimize the pressure surges that cause water hammer. The pump control option will maximize the life of the pump and piping systems while minimizing the downtime caused by system failure
Across the Line Bypass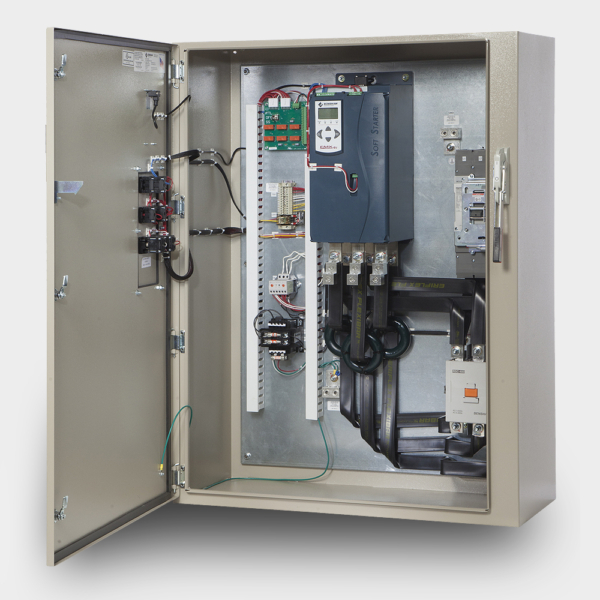 RX4E Combination Soft Starter with MX4 Technology:
This RX4E Enclosed Combo Starters are stocked as Heavy Duty rated soft starters for the most difficult and critical applications.
They include a circuit breaker, full voltage rated emergency bypass contactor, door mounted Start/Stop pushbuttons, Local/Off/Remote selector switch and door mounted EMX4i keypad.
RX4E combo starters are available in either a NEMA12 or NEMA3R enclosure.
The full voltage rated bypass contactor doubles as a running duty bypass contactor when in soft starter mode.
Compact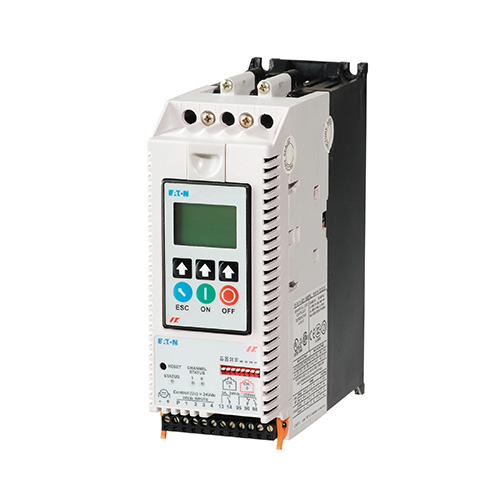 S811 + S801 Soft Starters:
The S811+/S801+ line of intelligent technologies soft starters is designed to be the smallest, most compact soft starter in the market today.
With this small size, it can easily fit in place of existing soft starter designs, wye-delta starters or across-the-line NEMA and IEC starters.
This feature allows easy retrofits of existing motor control centers or enclosures and saves the expense of replacing existing structures or adding a new one to house a soft starter.
The product is designed to work with 3-phase motors in a Delta (3-lead) configuration. The S811/S811+ works with all motors from fractional horsepower up to motors requiring 1000 amps of steady state current.
The unique soft stopping control provides a smooth transition for stopping a motor and eliminating the "water-hammer" effect that can damage pipes, valves and pumps. 
Core Features of the S811+/ S801+ Soft Starter:
Unique soft stopping pump control option provides a smooth transition for stopping a motor and eliminates the "water-hammer" effect that can damage pipes, valves and pumps
Advanced protective and diagnostic features using sophisticated algorithms that model motor heating. This results in fewer nuisance trips and reduced downtime
Compact size allows easy retrofits of existing motor control centers or enclosures, and saves the expense of replacing the existing structure or adding a new one to house a soft starter
Easy- to-use Digital Interface Module (DIM) allows the user to configure the device, read system parameters and monitor system values
Built-in overload (in ranges from 11–1000A) and run bypass contactor make installation and setup quick and easy
Reduces inrush current for a more stable power grid and can lower peak demand charges
Controller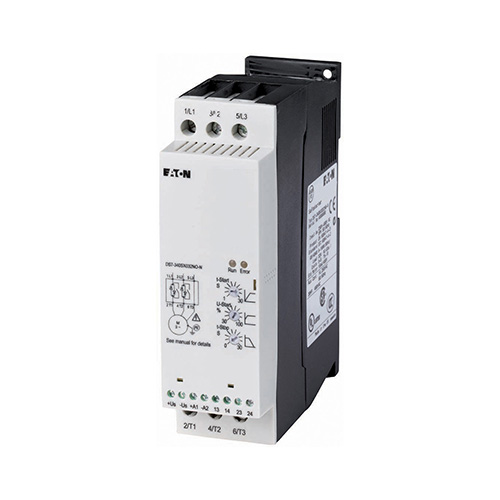 DS7 soft start controller:
DS7 easily fits in place of existing soft starters, wye-delta starters or across-the-line NEMA and IEC starters.
The voltage ramp start method provides a voltage ramp to the motor for constant torque increase.
Users set initial voltage values and the duration of the ramp to full voltage conditions.
Soft Stop allows for a controlled stopping of load when a stop-time greater than the coast-to-stop time is desired; for high friction loads where a sudden stop may cause system damage.
DS7 Soft Start Controller Core Features:
Run bypass mode greatly reduces internal heating created by the power dissipation across the SCRs
Bypass contactor directly connects the motor to the line and improves system efficiency by reducing internal power losses
Less heat minimizes enclosure size and cooling requirements, and maximizes the life of all devices in the enclosure
LED displays device status and provides fault indication
Variable ramp times and voltage control (torque control) settings provide unlimited starting configurations for maximum application flexibility
Manages peak starting torque to diminish mechanical system wear and damage
120 Vac or 24 Vdc control voltage available
Temperature monitoring sensors allow starter to trip in over/under temperature conditions, preventing device failure
Available with or without SmartWire-DT capability