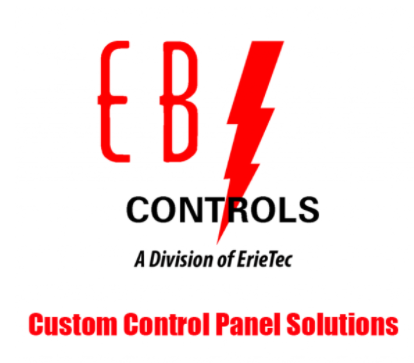 Our Story
EB Controls was started as a result of customer need.
Historically our customers love dealing with us and the electrical products that we support through Erie Bearings (now ErieTec).
The quality of the manufacturers we have, ease of doing business with us and the electrical support we offered made us a gem in our customers' eyes.
Multiple times over the years we've heard similar questions like "boy it'd be nice if you guys could put these items in an enclosure for us as we do not have that expertise in house any longer" or "can you / would you build a control panel up for us as we trust you to know it'll work once it's done", etc.
Our answer was always "no, sorry, but we work with integrators and panel shops to do that kind of work". Our customers didn't like that answer as they trusted us to be their "go to" people on the parts and were hoping we could be the same on a complete panel build. With that, they had to choice but to go to other people – our competitors – to get their panel built.
So, back in 2008 we approached Erie Bearings management to open a panel shop based on what we were hearing. They agreed! We haven't looked back.
While we started out slow to make sure all build processes made sense and worked as we had hoped, the panel shop grew quicker than what we had thought it would. Again due to customer need, we became a UL508A shop which makes us follow certain panel build guidelines and use approved products to ensure a quality built panel is accomplished.
We found out that by going through the UL approval process that we were pretty close to their guidelines of quality without even knowing it! That made us feel good about the panels that we had done previously and our process didn't change much going forward.
In January 2017, we grew into a separate division under ErieTec. We have just more than a decade of panel building experience under our belt doing work for various OEMs & MROs throughout Western PA, Western NY & Eastern OH.