Motor Control (1100 × 450 px) (1920 × 600 px)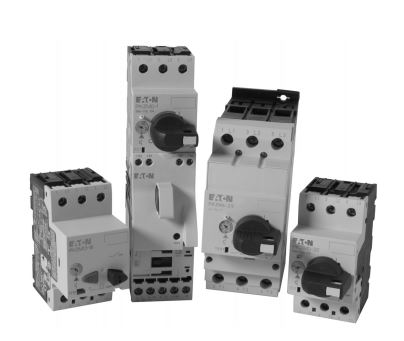 Manual motor control offers ideal space-saving and cost-saving solutions as manual starters, manual motor disconnects, group motor installations, and self-protected manual combination starters.
Manual motor starters and protectors provide protection against low-level faults that fuses or circuit breakers on the branch circuit would ignore.
In group motor installations more than one motor circuit is protected by a single branch circuit protective device (BCPD).
Core Features for the XT IEC Manual Motor Protectors Include:
Fingerproof" terminals with screwdriver guide holes are located in the vertical plane for safe, convenient front access and ease of wiring
Undervoltage release module trips manual starter to "off" during loss of power to ensure starter is turned on manually, for added safety
Group motor installations eliminate the need for individual branch short-circuit protective devices (BCPD) for each motor circuit, reducing panel space, installation and wiring time, and costs
Self-protected combination starters provide continuous service after a fault and eliminate the need for a single BCPD, reducing panel space and additional cost
Manual motor controllers feature a rotary ON/OFF manual disconnect, Class 10 adjustable bimetallic overload relay and fixed magnetic short-circuit trip capability in one compact unit