Motor Control (1100 × 450 px) (1920 × 600 px)
Counters
Timers
Temperature Control

PAX 2C PID Controllers:
From the dual line, tri-color display to universal power and input capabilities, PAX®2C PID controllers are packed full of features that set it apart from other PID controllers.
Field-installable output cards and plug-in options for inputs, outputs and communications add even more versatility, enabling the advanced PAX2C PID controllers to deliver an ideal solution for temperature and process applications requiring multiple parameters to be visualized or controlled at the same time.
Ramp Soak capabilities allow users the ability to change and hold machine temperature – either up or down – for a specific time period to easily integrate time-stepped processes.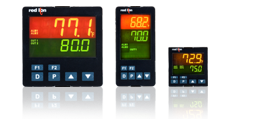 PXU PID Controllers:
The PXU line of PID controllers is the perfect solution for your basic control requirements.
The PXU's capabilities cover applications requiring simple on/off control all the way to full PID control. Featuring one of the industry's largest displays, the PXU is easy to read from a distance.
Available in various sizes, 1/16, 1/8 and 1/4 DIN and packaged in a space saving design, the PXU can be installed into enclosures with a reduced depth to save space and money.