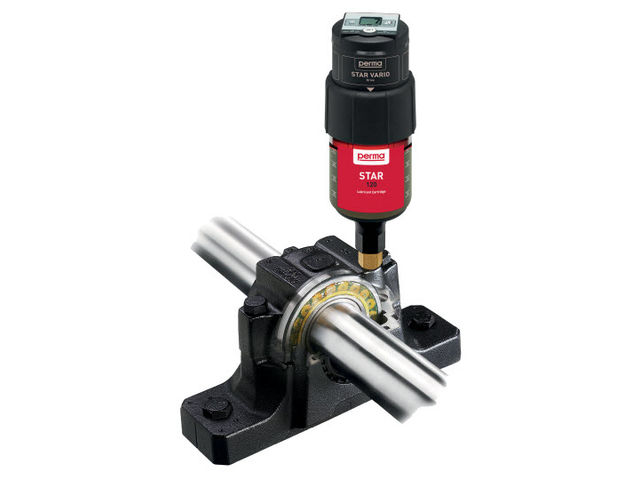 Lubrication is an extremely important aspect of your industrial operations. Even the very best components can fail well before their expected lifespan if they're not properly lubricated. Perhaps you were already aware of this fact. What do you do to combat it? Sometimes the maintenance team worries so much about under-lubricating that they end up over-lubricating. Did you know that can be just as damaging as not having enough? Too much oil or grease can destroy your seals and lead to failure just like having your component run on too little. That's why we often recommend an industrial lubricator that deliver lubrication automatically.
Success Story: Perma Industrial Lubricator Reduces Failures and Pays for Itself
The Situation

About a year and a half ago, ErieTec introduced this power generation customer to the idea of utilizing Perma industrial lubricators to deliver the right amount of oil or grease to components automatically. They were receptive and found after adding a dozen or so units that life was increased in their components, but they were hesitant to invest further.
The Solution

Even after the initial setup with some Perma units, the customer simply didn't have enough man power to ensure that all of their lubrication points were properly maintained. ErieTec brought in our Perma representative who was able to throw in an offer of adding change-out service through Perma. The customer could trust that when it was time to refill the units, they were being serviced on-time and properly. It gave them a sense of security to have both ErieTec and Perma supporting them, and they ended up investing in Perma industrial lubricator units for 182 different lubrication points in their plant.
The Savings

As a quick summary, all the reduces costs and increased efficiencies meant that this customer saved enough money to offset the cost of the initial investment after only 4 months. For the other 2/3 of the year, the savings was net profit to the company.
The longer explanation: We talk about cost savings often, and in this case there are so many different kinds of 'cost' to cover. Product cost is huge, but maintenance time carries cost, along with downtime, productivity, and lifespan. Among Perma, ErieTec, and the customer, we identified all the following factors that would lower cost and increase profit:
Perma helps to prevent up to 55% of roller bearing failures
Constant renewal of the lubricating film during application ensures that equipment will continue to operate as desired
Automatic lubrication system delivers reliable, clean, and precise lubrication around the clock
In manual lubrication delivery, you're often wavering between over-lubricated and under-lubricated. This eliminates that instability
You can set the discharge period to match the level of lubrication needed for each individual point of lubrication. Two points on the same component can require a different amount to function at their best – Perma allows this.
Perma reduces costs by up to 25%
Predictable servicing intervals means reduced downtime costs
Continuous, low maintenance, long term lubrication reduces administrative cost
The lubricant is high quality and the delivery system is reliable, meaning your productivity will remain high
Proper lubrication reduces energy costs, too!
Perma reduces the risk of accidents by up to 90%
Long replacement intervals means fewer attempts to access difficult to reach points of lubrication
Fewer maintenance runs
This customer is spending much less time in dangerous areas, because Perma will be doing the change-outs themselves, increasing the level of expertise held by the person doing the maintenance
Greatly reduces workplace hazards by allowing lubrication to be delivered automatically and away from dangerous zones in your operations
What Can an Industrial Lubricator Do for You?
Are you properly lubricating every point in your plant? How many failures could have been reduced with reliable, precise, automatic lubrication? Contact us! We can help.