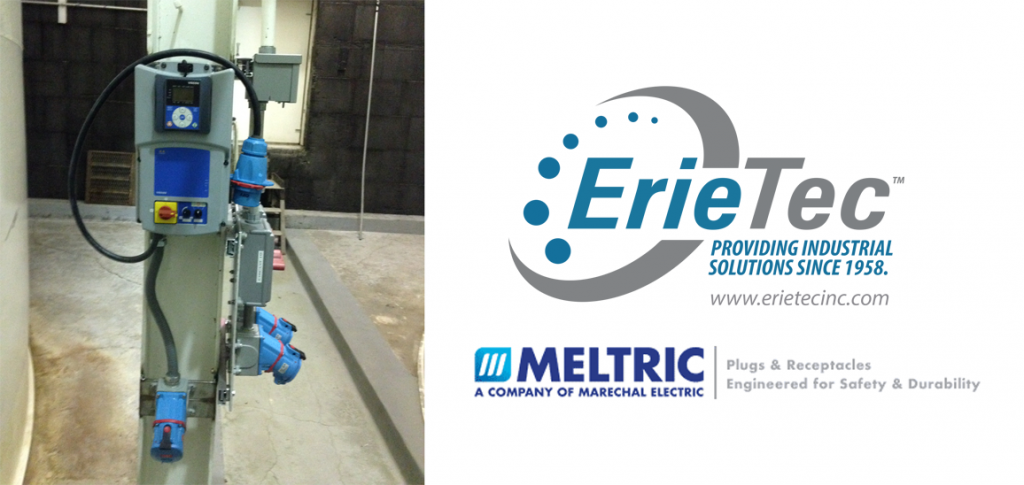 Meltric is a trusted vendor of ours whose products solve numerous problems for our customers. Plugs and receptacles are used in many different applications, including hazardous, submerged, and welding environments. Plants with these environments can often realize great cost savings by investing in Meltric plugs and receptacles. In the following case, the most important aspect was the movable factor: the customer had carts that they needed to move around their operations, and they were often failing because of cracks and bumps in the floor.
Success Story: Plugs and Receptacles for VFDs Previously Mounted to Carts
We had a Food & Beverage customer who was using VFDs mounted to carts around their plant. Unfortunately, the cracked floors caused jolting that ruined the capacitors. Because of this, they were experiencing a lot of downtime in addition to increased equipment costs as they were replacing their parts so often.
ErieTec's solution was to eliminate the problem of VFD damage by taking the VFD off the cart and instead mounting them to support beams. They maintained the movable feature of the carts by incorporating Meltric plugs and receptacles that were easily connected and disconnected.
Meltric plugs and receptacles can solve numerous other problems as their benefits are wide-ranging. Some of these include:
Serves as a Line of Sight Disconnect
Increases Safety since it can disconnect under full load without arcing
Prevents shock hazard through dead front shutter
Includes lock-out tag-out capabilities
Maintains NFPA70E compliance
Allows for easy ordering and replacing of parts as they are modular
Eliminates need for cumbersome PPE during motor change-out
Are you experiencing some of these problems that Meltric plugs and receptacles might be able to solve? Contact us and we'll dig deeper into your environment and applications to see exactly what ErieTec and Meltric can do you for you.