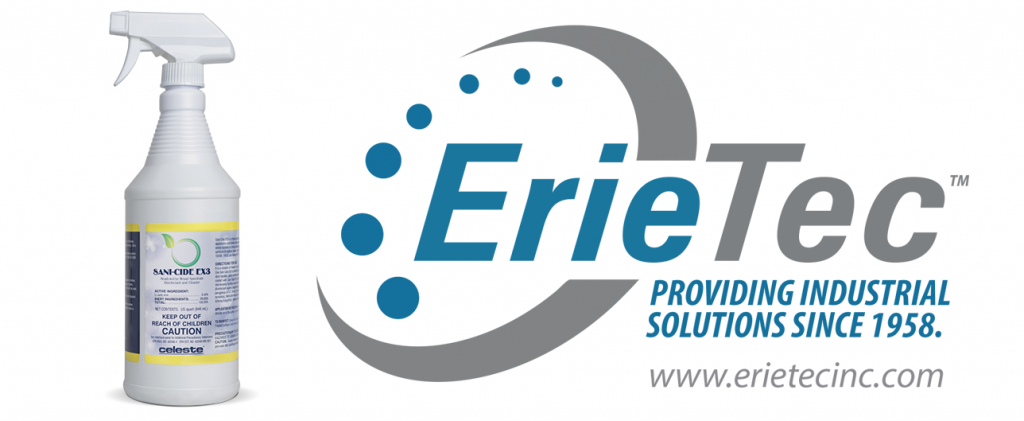 Sani-Cide EX3 kills COVID-19 (the virus that causes it), and you can get it by the case from ErieTec right now. 
It can be tough to quickly obtain cleaners that are EPA registered and proven to kill SARS-COV-2, the novel coronavirus that causes COVID-19. You need cleaner that kills COVID-19 in order to keep your employees safe.
We have it in the form of Sani-Cide EX3, a broad spectrum disinfectant and multipurpose cleaner that both makes your surfaces safe and look great.
Contact your solutions specialist for Sani-cide EX3, part number 460-MF-SCIDEX3/QT, in stock and ready to ship!
Why Sani-Cide EX3?
Proven effective disinfection against Staphylococcus aureus, Salmonella enterica, Pseudomonas aeruginosa, Human Norovirus, Methicillin Resistant Staphylococcus aureus, Influenza A virus, and Influenza B virus
Biodegradable
Non-toxic and non-corrosive
No quaternary ammonium compounds
Water based, contains no volatile organic compounds (VOCs)
Does not contribute to an accumulated grimy/dulled appearance
Highly effective performance — shows substantial soil removal and minimal soil re-deposition — contains agents that prevent soil re-deposition and make subsequent cleanings easier
Safe for use on glass, mirrors, metal, plastic, leather, fabric, and carpet
Non-reactive to and fully compatible with all known fire retardant thermoplastics
Special Price: Keep Clean for Less
For our customers only: we're offering cases of 12 spray bottles (1 quart each) for $70.20. That works out to $5.85 per bottle.