Digital Solutions Are Vital to Industrial Operations
Originating in 2009, the fourth Industrial Revolution is the fusion of the digital, physical, virtual worlds to drive the next generation of intelligent industrial solutions and the development of condition monitoring products to optimize operations.
Industrial operations across the globe are facing ever-increasing challenges such as labor shortages, safety regulations, higher costs, and competitive pressures. With the need to approve efficiency and prioritize safety, operations are looking for digital solutions to enhance reliability, streamline maintenance, and maximize uptime.
Revolutionary design for unmatched performance
The OPTIFY Performance Sensor unlocks your operations potential, eve in the most extreme conditions, by remotely monitoring the condition of your mounted bearings, gear reducers, and motors.
It's specialized design builds upon the proven success of Dodge sensors with direct customer feedback incorporated into its enhanced features for industry-leading reliability and quality of measurements.
Capable of providing a robust range of key performance indicators (KPI's) the sensor enables anyone to capture data in a wide range of applications to make better-informed operational decisions- reducing maintenance requirements and unexpected expenses.
The sensor is easy to install on your equipment and connect to the OPTIFY condition monitoring platform, empowering anyone to operate safely, improve reliability, boost efficiency, and predict the end of the equipment life to maximize uptime.
enhanced features to unlock maximum operation potential
Tri-axis accelerator
The tri-axis accelerator captures precise vibration and temperature data, even in low-speed applications, for early detection of potential equipment issues.
embedded magnetometer
The embedded magnetometer captures accurate speed measurements in motors to expand the senor's application versatility for complete powertrain condition monitoring.
High-capacity battery
The high-capacity battery has up to 4 years of life under operation conditions and includes an unprecedented 2-year limited warranty for hassle-free, long-lasting performance and low total cost of ownership.
Intrinsically safe
From mining aggregate material to food production to grain handling, the sensor's multitude of third-party certifications provide peace of mind it can meet and exceed operational requirements to be the reliable, superior solution for demanding applications.
Temperature range
Widest range for wireless sensors on the market, handling surface temperatures from -40 F to 248 F and ambient temperatures from -40 F to 221 F for continuous operations in the most demanding applications.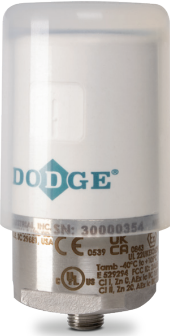 Technology to help you work smarter, not harder
The sensor is compatible with the OPTIFY condition monitoring platform straight out of the box and features advanced cybersecurity technology to protect your data. The platform allows you to quickly review the status of assets, compare like-asset data, analyze data trends, and more. With OPTIFY, you gain critical insight for making better-informed decisions in real-time- saving you valuable time and money.
Contact an ErieTec representative to find out more the OPTIFY Performance Sensor, and other services ErieTec offers.