Dry lubricant bearings are most often used in low-speed, high-temperature applications like the furnaces and kilns of the lumber industry. Sometimes the solid is applied in a carrier fluid that burns off later leaving solid lubricant. In other cases, the lubricant is applied as a dry film to raceways and then it transfers to rolling elements while it operates. In either case, you are extending the life of the bearings and reducing maintenance time by choosing a lubricant that won't be destroyed by your operating temperatures.
Other bearings that forego lubricant are those not made of metals. Take IGUS for example: they carry the xiros series which is a radial deep groove ball bearing, but doesn't require lubricant, as it's plastic. The balls are still stainless steel, so in its entirety these dry lubricant bearings are acceptable in food and beverage and pharmaceutical applications.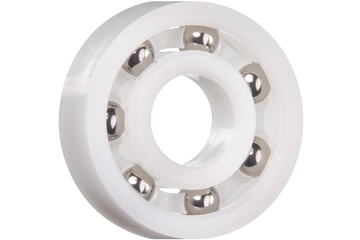 We also carry a full line of plastic bearings from various manufacturers that serve a wide range of purposes.
Were you looking for more information about lubrication? Go here!